Regular price
Sale price
$19.95 USD
Unit price
per
Sale
Sold out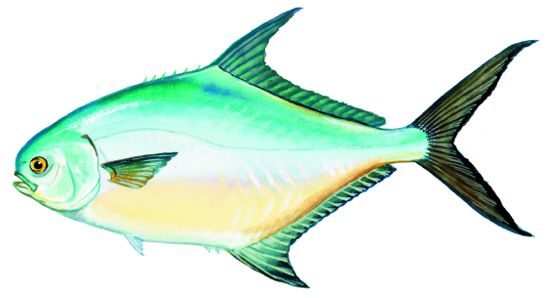 How the heck do FishTargets work, anyway?
The Atlantic Permit is also known as "Pompano."  The Pacific Permit is closely related and carries many of the same qualities as described here.  A popular saltwater fish, Permit are respected as a challenge to catch and for the toughness they exhibit once hooked.  They are not small fish, with 20-30 pounders commonplace.
Permit range from Brazil to Massachusetts, to the West Indies, Bermuda and the eastern Atlantic.  Southern Florida is one of the most popular areas for anglers.  They are seldom encountered in plentiful numbers, and many more are seen than caught by rod and reel.
They tend to congregate in channels and deeper holes offshore.  They move to shallow flats with the tide, but due to their deep bodies, they need more depth than the Bonefish with which they are often associated.  It is on the flats that the best of the fishing occurs, and primarily by sighting movement of schools, or the individual tails/fins of feeding fish.
FishTargets Permit. Includes 4 FishTargets flies/hooks. 5" X 19"  11 oz.
Materials

All new material polyester fibers. This product meets ASTM toy safety standards.
Care Instructions

Surface washable only. Air dry.
Share
View full details